People Photo Album Information Job Information Links Where are the EC's now? People Locator
Welcome to the World Wide Airborne Command Post Page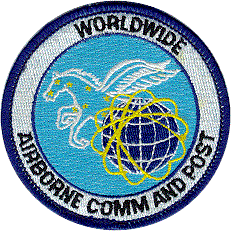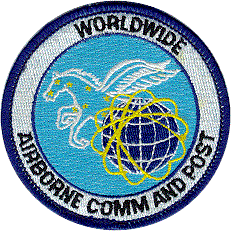 We created this page to serve as a global meeting place for anyone ever involved with the World Wide Airborne Command Post Mission.
After meeting up with a few ex PACCS troops and reminising about the good old days, we became curious about what others were doing. We finally decided to do something about it.
Think of this page as a clearing house for finding, and contacting people you served with. We'll also post items that may be of interest. This should also be a good place to network with people for job opportunities. You'd be surprised where your background in the Airborne Command Post can lead you.
Latest Updates to the Page.
04/28/2009
Added David Ririe to the people page.
07/20/2008
Updated John Geasa's Contact Information.
10/29/2007
Added Christopher A. Hetkey to the people page.
4/23/2007
Updated Robert Parkers Personal Information.
He is also requesting help finding any high level technical descriptions on the systems onboard the PACCS aircraft. He's working on a masters project to do a bunch of systems engineering diagrams and documents for a non architected system. Thought it would be cool to do this project with memory of the systems on board the EC-135. If you can help drop him an email.
.
Foster told the press he became a vegan because he didn't feel good when he ate big meals with meat. At 25, he'd been cutting meat out of his diet for six months before turning vegan and considers the unwanted attention, as his management put it, "a distraction." Both he and his team refuse to discuss it. He said in his familiar barker cadence opening the show. lines are moving and the money is flying! shuffling through the South Point Hotel and Casino with a Bloody Mary in hand, perhaps looking for the bank of slot machines that used to be on that part of carpeted area, had their
cheap china jerseys
curiosity piqued. Brad Culpepper, a former NFL tackle for the Minnesota Vikings, Tampa Bay Buccaneers and Chicago Bears, became a Central New York favorite on
cheap hockey jerseys
"Survivor: Game Changers" when he wore a Syracuse hat throughout the reality competition. He made it all
cheap jerseys
the way to the final episode, battling Troy "Troyzan" Robertson, Sarah Lacina, Tai Trang, Aubry Bracco and Cirie Fields for the $1 million grand prize. PayThe pay for working in football varies widely, based on position and league. Players who are considered the best in the
cheap china jerseys
NFL can make well more than $10 million. The league minimum salary in the NFL varies each year, but was about $310,000 in 2009, according to NBC Sports. The average salary for an NFL head
cheap nfl jerseys
coach is $2.5
cheap nfl jerseys
million per year, reports Forbes magazine. Department of Labor. Some of these coaches must also teach and coach other subjects. Bicycling: A lot of people have been worried that with Lance Armstrong recent re retirement, cycling in America was again going to experience a substantial decline. But teams like Garmin, as well as say BMC and Columbia just continue to up their game and to do that, you all are getting even more sponsorship commitment. The league is also tweaking how games are run to speed them up. Instead of reviewing plays on a sideline monitor, referees will use
cheap nhl jerseys
a handheld tablet while consulting with officials in New York, in part to make decisions faster. Overtime will be cut to 10 minutes from 15. The league has even relaxed its rules on touchdown celebrations, allowing for more creativity. We've waited for years for a winning season. Injuries slowed them down during and at the end especially in the running game and the defensive backfield. You get a tweet my friend just for even talking about the Lions. Megetron his receiver should have been mentioned here with his abilities. Matthew turns 24 I believe 02/07. The once rising star and Super Bowl quarterback has been unemployed since March, when he opted out of his contract and became a free agent who could sign with any team. At least three NFL clubs have openly discussed the idea of signing him, but the embattled quarterback has yet to sign a contract with training camps well underway.
Created by John Geasa and Richard Maddox